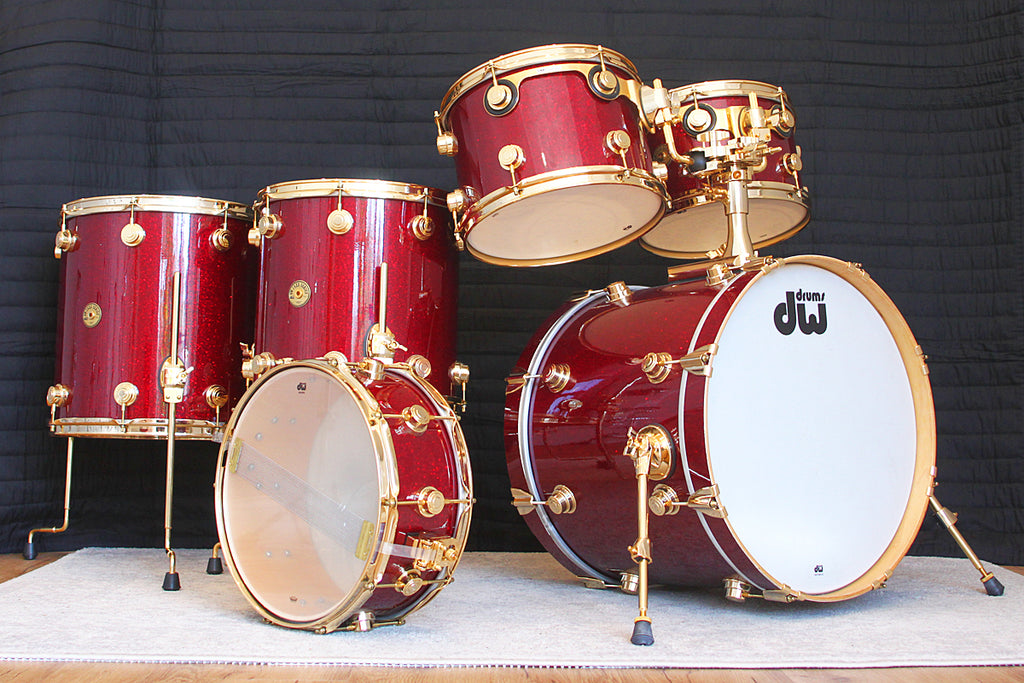 DW Jazz Series 6-Piece Fusion Kit
Here's a beautiful used DW kit configured as follows:
16" (depth) x 20" (diameter) bass drum;
8" x 12" mounted tom;
9" x 13" mounted tom;
14" x 14" floor tom;
16" x 16" floor tom; and
6" x 14" snare drum.
The shells are Jazz Series, meaning maple with a gumwood core and no reinforcement rings, similar to the Gretsch USA Custom layup.  The order numbers indicate that these drums were made in or around 2012.  The finish is called Ruby Glass FinishPly, and the hardware is gold.  Currently, this setup would cost around $8,000.00 new.
We would call the condition excellent if it weren't for the gold hardware, which generally doesn't age as well as chrome.  Instead, we would say very good, with typical wear to the gold hardware.  The resonant heads are factory throughout (please note that they're coated on the mounted toms and clear on the floor toms), while the batter heads are Remo: Clear Powerstroke on the kick, Clear Pinstripes on the toms, and Coated Ambassador on the snare.  All show some use, but should have life left.  The tom and snare hoops are True Hoops.
The drums were owned and played by a pro who took care of them.  So while not showroom perfect, they look great and will serve you well for many years to come.  Please review the supersized photos and contact us with any questions or concerns.
Here are the pitches and two different order numbers:
20": 848xxx, E
12": 852xxx, B flat
13":  852xxx, G sharp
14": 848xxx, E
16": 848xxx, B flat
Snare: 848xxx, D
The double tom holder and floor tom legs are included.  The snare drum stand is not.
Shipping is free in the US48.  Please contact us for a quote elsewhere.
See and hear these drums in our Video Vault (TM) and buy with confidence!