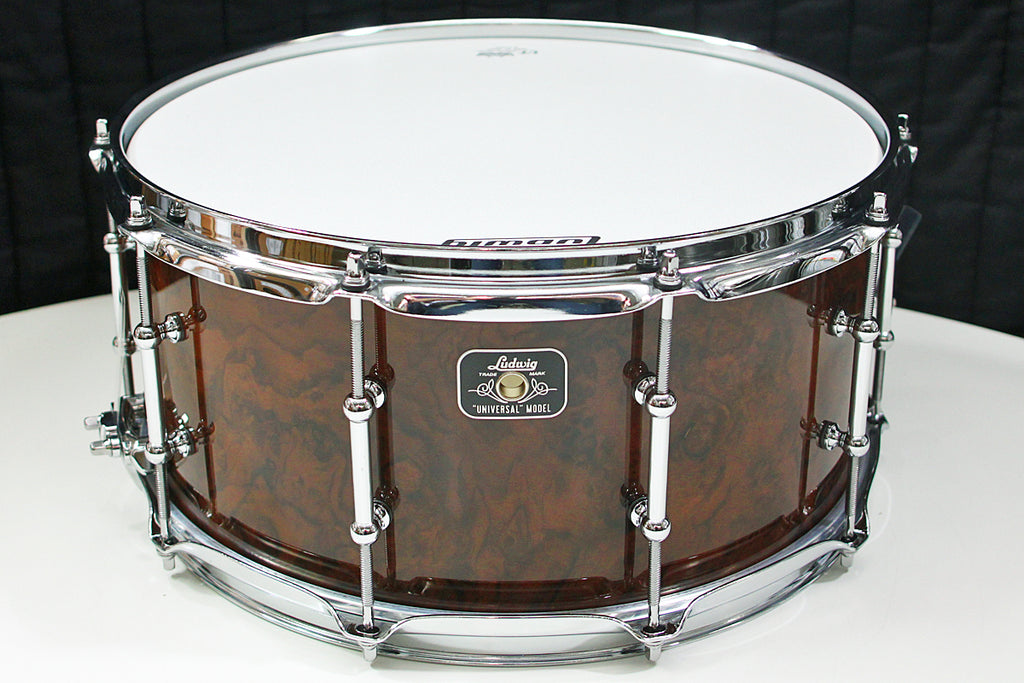 Ludwig Universal Walnut 6.5" x 14" Snare
Ludwig's Universal Snare Drum series offers the discerning drummer a new sonic palette of sounds to complement virtually any style of music.  Universal Snares were designed to bring unique musical voices to the stage that work well in various musical styles across multiple tuning ranges.  Sonic range and richness have never been so accessible.
UNIVERSAL WALNUT
Walnut has a history of delivering dark rich tone and attack.  Ludwig's Universal Walnut snare brings this and more to the sonic table, delivering clear articulation when playing subtle grace notes.  The sound of the walnut shell really comes to life when played loudly.  Rimshots and cross-stick sounds deliver a clean and warm tone.
Product specifications:
*6.5" (depth) x 14" (diameter)
*6-ply, 7.5 mm walnut shell
*Outer ply of exotic Walnut Burl
*Triple flange hoops
*Tube lugs
*P88i throw-off and P35 butt plate
*18 strand snare wires

See and hear this drum in our Video Vault (TM) and buy with confidence!