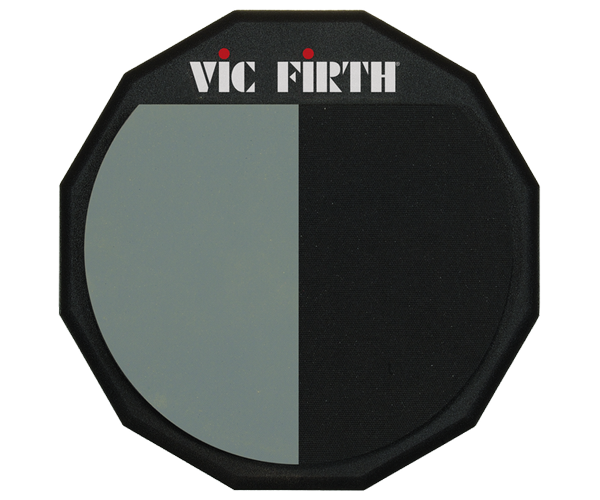 Vic Firth 12" Double-Surface Practice Pad
Give your wrists a workout anywhere on this double surface pad, with two responsive surface and articulation options.
Drummers need to be able to practice, but many times it needs to happen away from the kit, either at low volume or while on the go.
Vic Firth's Double-Surface Practice Pad sets a high standard for drumming practice with a single-side, dual-rubber surface with two convenient feel options for keeping your chops sharp, whether you're perfecting a new piece of music, or working on stick control. Even when played with full force at the loudest dynamic, this pad absorbs the blows and controls the volume for longer and later practice.
The left side features a softer, gray rubber that provides the realistic feel of a drumhead for a guaranteed wrist workout. The right side has a harder black rubber surface with slightly more volume, quick rebound and tight articulation ideal for marching and rudimentary practice.

Play on any surface, drum or right in your lap. The durable wooden base and underside grip keep this pad in place. This model also fits most snare stands for convenient practice. The trademark Vic Firth logo is printed on top, showing the world you're playing with the right feel. Made in the USA.
DETAILS
*Single-sided
*2 surface types with realistic feel and response
*Work your wrists and keep your chops sharp
*Practice at low volume
*Portable for practice on-the-go
*Natural rubber on durable wooden base
*SKU: PAD12H