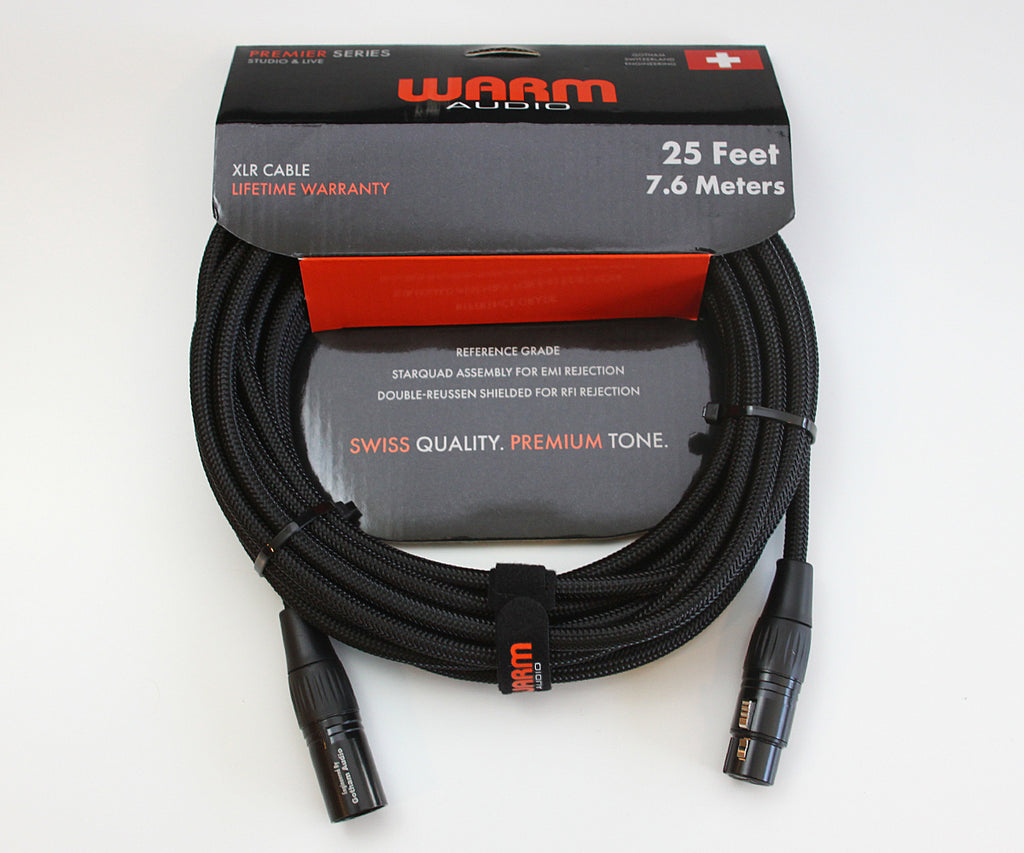 Warm Audio Premier Series 25' XLR Cable PREM-XLR-25
Introducing Premium Cables By Warm Audio
At Warm, we always put customers front and center in our decision-making. You are the reason that we put so much time and effort into ensuring that the products we bring to market sound amazing, are as affordable as possible and inspire endless creativity - we're serious about this stuff.
We're also serious about recording as an art, and we're always looking for ways to help our customers achieve their sonic goals. With that mission in mind we partnered with Switzerland-based Gotham AG - Europe's top producer of premium cable - to provide the cable stock for our entire new line of interconnects, and the results have exceeded our expectations.
Highest Quality Possible
With Warm Cables we knew that we wanted to offer the highest quality possible at a price low enough for everyone to afford, with construction robust enough that we could offer a lifetime warranty. Well known as the original supplier to some of the industry's elite manufacturers (their 3-conductor wire was known simply as "the Neumann Cable" for decades), Gotham's cable construction techniques and technology now represent the current state-of-the-art. We couldn't be happier to partner with them on these new cables, and we can't wait for you to use them.
Premier Vs. Pro
Warm makes two lines of cable - Premier and Professional - in order to offer the largest number of options possible in two different price ranges. Both lines take advantage of Gotham's state-of-the-art construction, offering absolutely stellar audio performance, near-perfect signal transfer and the ultimate in reliability (which is why they both feature a lifetime warranty!). Both cable lines produce fabulous results, but the Premier line adds above-and-beyond features like gold-plated connectors, four-conductor Starquad construction for powerful rejection of EMI and Double-Reussen shielding for increased rejection of RFI. There simply is no better-sounding or more reliable cable on the planet, and Warm Cables don't come with a gold-plated price tag - these are wires that everyone can afford.

Warm Audio Premier and Pro cables are offered in XLR, XLR to TRS, TS to TS, and TS to angled TS varieties.
Premier XLR Product Details
Connectors
Type: XLR
Color: Black/Gold
Cable
Diameter: 1/4" (6.3mm)
Color: Black
Jacket Material: Flexible PVC, Woven Nylon
Conductor Wires
Material: Standard Bare Copper Wires
Diameter: 23 AWG (0.57mm)
Twisting: Four Core Twisted Together, Star Quad
Shield
Shield 1: k6160 Polyester Nonwoven Thermally Bonded Copper Coated
Shield 2: Bare Copper Wires
Coverage: 100%