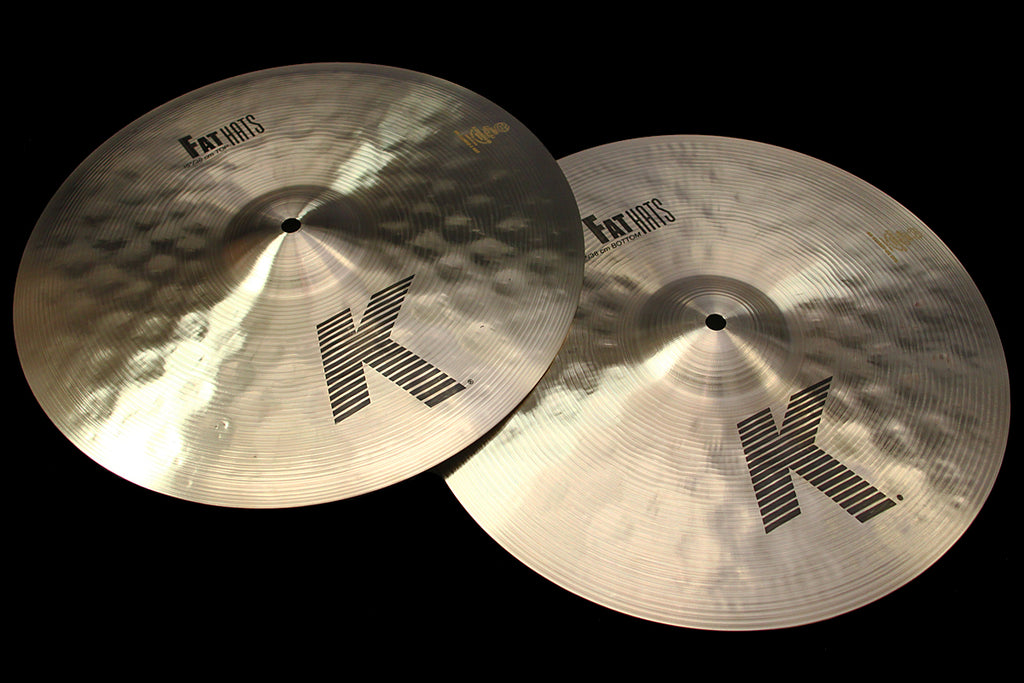 Zildjian K 15" Fat Hats (1159 & 1535g)
Fat Hats were born out of an inspiration to combine bright and dark manufacturing techniques for a truly blended sound made for any stage or session.
The Fat Hats are the very definition of "labor of love."  A decade of testing has created this rich, blended "go-to" hihat sound that performs in the studio and turns heads on-stage.

The key is a combination of darker hammering with wider, A Zildjian-style lathing, and a smaller weight difference blurring true top and bottom. Designed to be a cymbal bag chameleon, these "part K, part A" hats sit within any cymbal setup, and are ripe for mixing and matching or simply playing them as is -- a perfect blend of warm and bright. Play the 14-1/8" for fantastic stick, or move up to the 15-1/8" for an incredibly lush sound and pronounced chick.  Both unique sizes bring something special to any gig.

The secret is out, and the road-tested, artist-approved Fat Hats are ready to transform your kit.

*Blend of A and K-style manufacturing techniques
*A "go-to" hihat sound for studio and live settings
*Perfect for players who mix and match hats
*Explore size range for more stick or chick
*Smaller top-bottom weight gap
*Two odd sizes: 14-1/8", or 15-1/8"
See and hear these cymbals in our Video Vault (TM) and buy with confidence!